Restored to Health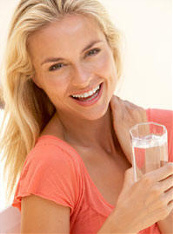 Your mouth's healthy condition is under siege every day. Bacteria in your mouth never sleep, are relentless in the pursuit of nourishment and cause decay and infection. At the first twinge of discomfort, contact us immediately. The sooner you get help, the less chance bacteria will have to cause pain and suffering. If your teeth need fillings, crown and bridge, root canal therapy or other dental restoration, we're proud to offer every service available to repair your teeth and get you back on track – we want to see you healthy! We offer:
Implant restorations




Bonding and Veneers




Whitening




Crown and bridge treatment




Root Canal Therapy




Dentures




Partial dentures




Tooth-colored fillings



Cosmetic Dentistry: The Art of the Smile
Did you know? No other method of communication is used as often as a smile. Recent polls have suggested a person's smile will make or break their perceived attractiveness by the opposite sex. Smiling is the international symbol of welcome. Its one sure way to diffuse tension in any encounter, and smiling has been proven to lower the blood pressure of both the giver and the recipient by as much as 20 points in clinical studies of stress and emotion.
If you're not smiling right now…you could be! If your smile is less than perfect, cosmetic dentistry might be 'for you'. Simply put, cosmetic dentistry is the art of giving you a beautiful, younger looking, more attractive smile. Porcelain veneers and crowns replace your existing exposed tooth structure and completely erase stains, discolored restorations and uneven, jagged or imperfect teeth. Missing, recessed or jutting teeth are all candidates for cosmetic restoration. We offer "instant orthodontics" as well, meaning we straighten teeth with the veneering process. In short, anything you don't like about your teeth can likely be radically changed with cosmetics.
If you want to find out how other people see your smile, try this trick: stand in front of your bathroom mirror. Now, laugh hard and loud. Do you see what everyone else sees? Most of your upper and part of your lower teeth are exposed. Some people's teeth show all the way back to their molars. Many of our patients have tried this exercise and cover their mouths with their hands, attempting to hide a less than perfect smile.
You don't have to laugh with your hand over your mouth any longer. With modern payment arrangements and the beauty of all-porcelain restorations, there is no reason for you to be anything less than electrified by your smile, right now. Ask any member of our team for more details; we're here to help.
We also offer:

Beautiful bonded fillings and Veneers
Preventive therapies
An Ounce of Prevention
Our dream is that, someday, preventive care will be more prevalent in our area. With prevention comes better oral health overall, reduced oral cancer susceptibility, diminished adult tooth loss and happier, healthier patients. Our preventive team is headed by our hygienists Susan and Larisa and backed up by Francine, our scheduling coordinator. Prevention comes in many forms. Like a fine automobile, your road to health begins with regular maintenance. Get started today by investing the time to maintain your own body…and keep it running smoothly for years to come.
We offer:
Regular Cleanings

Periodontal Disease Prevention and Maintenance

Digital Radiography

Oral Cancer Screenings

Convenient Payment Options
We understand that everyone wants a red-carpet smile. That smile is available to every person now, with our convenient financing plans. We'd love to help you make the smile of your dreams an easy choice with expert financing. Call to make your first appointment and ask us about our options.